Hibarihostel is Machiya ( Japanese traditional house ) made by nature materials.
We located just one stop in Kyoto station. Our town is not nature area.
We are a small forest in a city, like a roadside weeds or flowers.
We putting books like sowing seeds
The books will germinates and reach someone's heart
And then, spread like a spore
We want to be such a place for travelers.
What's a HIBARI?
HIBARI : SKYLARK
Kanji name : 雲雀(雲=cloud /雀=sparrow)
A bird of crowing at dawn in Japan
Our town name is 朱雀(SUZAKU). It is God of the bird in Japan.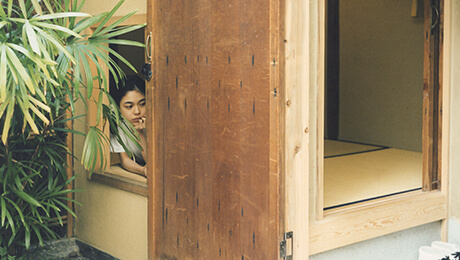 Profile
HIBARI's FAMILY
Hibarihostel is running by a Japanese family.
KEI (husband), CHISA(wife), KOU(son),
and JU(cat in our home).
We love books , cafe , and traveling life!
KEI have traveled over 30 countries.
We are looking forward to talk you about travel, book, café in the world!